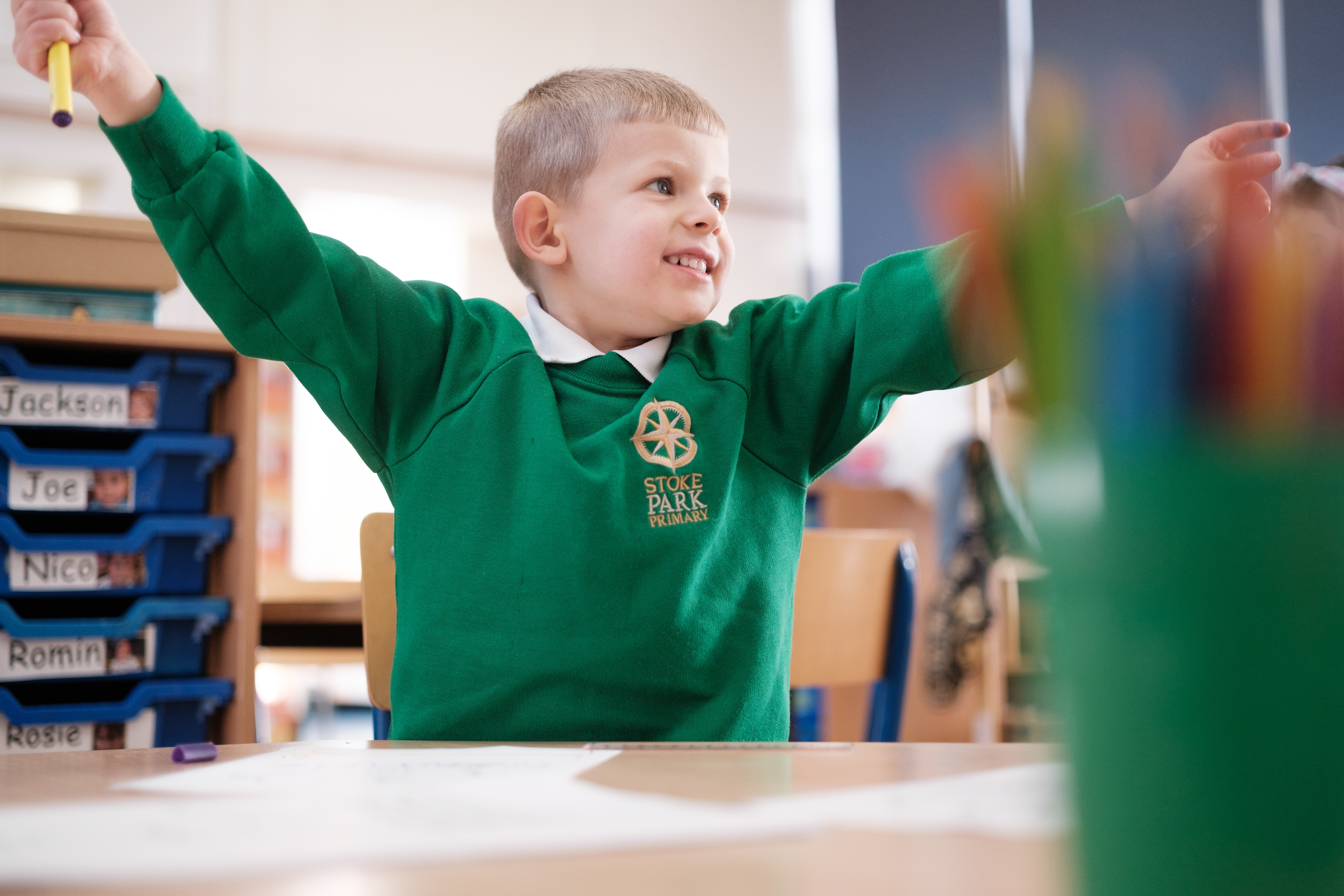 If you would like to apply for a place at our wonderful Nursery please download the application form here and return to the school,  You can email it to contactus@stokeparkprimary.org or hand in to the school office.
Our Nursery Class is part of our whole school provision and provides for children between the ages of 3 and 4. We are very lucky to have an extremely experienced team across both Nursery and Reception who work closely together to make up our Early Years Foundation Stage Phase.  Mrs Williams is the class teacher and she is supported by Mrs Daly. 
We can accommodate 26 children at any one time, with 52 session places available across the week.  Children can be admitted from their third birthday, however the free 15 hour funding entitlement only becomes available from the term following their third birthday (For example:  1st September, January or April).  Sessions will be allocated according to the arrangements and allocation of places in our Nursery Admissions Policy. 
Our 15hr funded sessions will be spread over 2½ days, either - 
Choice 1 Monday - Wednesday:   Monday and Tuesday 8.45 -3.00pm and 8.45-11.15am on a Wednesday 
OR Choice 2 Wednesday - Friday:  Wednesday 12.30-3.00pm and then 8.45-3.00 on a Thursday and Friday.
Our 30 hour funded places run from 8.45-3.00pm on a daily basis (please check your entitlement using the link below).  If parents would like to request additional sessions these may be available on a paid basis so again, please do ask if this is something you require.  We also offer wrap around care from 8-8.45am and 3-4.00pm. Costings are outlined in the timetable below. 
All 3-4 year olds in England are entitled to FREE 15 hours a week childcare at an Early Years setting. You may be able to get 30 hours free childcare. To find out visit: https://www.gov.uk/apply-30-hours-free-tax-free-childcare.
If you're eligible you sign up online and get a code to give to our setting and then the 30 hours free funding place can start as soon as we have availability.
Early Years Pupil Premium
What is the Early Years Pupil Premium?
The Early Years Pupil Premium (EYPP) is extra funding for early years providers to improve outcomes for eligible children.
How will I know if my child is entitled?
Your child will be eligible if:
They are 3 or 4 years of age and receiving free (Government funded) education with any Ofsted registered early years/nursery provider, and are in receipt of one or more of these benefits (used to access eligibility for free school meals):
Income Support
Income-based Jobseekers Allowance
Income-related Employment and Support Allowance
Support under Part VI of the Immigration and Asylum Act 1999
The guaranteed element of State Pension Credit
Child Tax Credit (unless you're also entitled to Working Tax Credit, and earn no more than £16,190)
Working Tax Credit run-on (paid for 4 weeks after you stop receiving Working Tax Credit
Or if:
they have been in Local Authority care for 1 day or more in England or Wales
they have been adopted from care in England or Wales
they have left care under a special guardianship order or residence order in England or Wales
How much is the funding?
The amount is 53p per hour. It is directly linked to the number of free hours you are taking up at your childcare provider as part of their normal funding claim. This means £302 a year if your child takes up the full 570 hours funded entitlement to early education.
How do I apply for EYPP funding?
Please complete the form provided in your admission pack, we will use the money in ways we think will support your child's learning and development. This will be informed by our understanding of your child's needs and preferences.
How will the EYPP be used?
The EYPP will be used to support your child's learning and development.  We may combine the EYPP payments for several children, or work with other providers, in order to fund specific activities or training.
Moving on to Reception
We expect that most parents would like their child to progress to the Reception Class and into the main school. However, all parents regardless of their school choice must make an application for a Reception place via the Bristol City Council online system; places are not allocated automatically even when a child attends our Nursery.  Please refer to the School's Admission Page  for further information.
If you would like any more information or would like to make an appointment to look around please contact the School Office on 0117 3772840 or contactus@stokeparkprimary.org.